---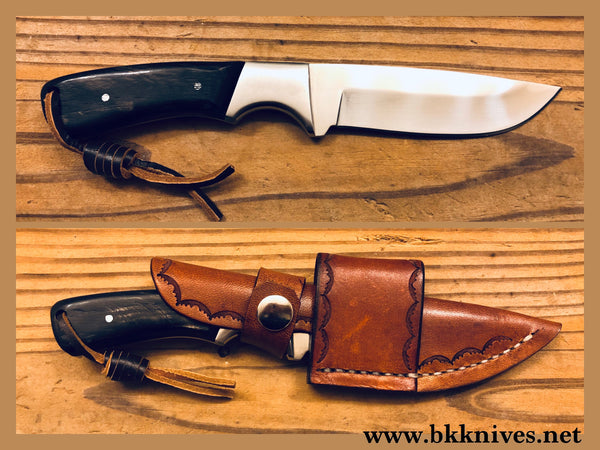 ALL KNIVES ARE MADE TO ORDER! 2 to 3 weeks until we ship!
440c stainless steel blade with black water buffalo horn handle. Our knives are the highest of quality in all of southeast Texas, they are all one of a kind—no two knives are the same due to the uniqueness of materials and craftsmanship! They are all handmade out of a little shop in New Waverly, Texas by Bruce Klawinski (aka - The Knife Guy)

Our blades are made from 440c stainless steel, and has been tested under a variety of applications which offer professional performance in categories of toughness, strength (lateral stress), edge honing and holding ability. Due to the carbon content of the blades, they will need to be regularly oiled to maintain its superior quality for the lifetime of the knife.

The knife handle is made from water buffalo horn, and no two handles are the same due to the natural characteristics of the horn!

The leather cross draw sheath is also made right here in our little shop by, Mrs. Tracy Klawinski using high-quality premium leather. Each sheath is hand cut, tooled, sewn and finished—complete with maker's mark!  

All cross draw sheathes are worn horizontally on your belt!